We provide various varieties of split firewood with quality service that we know for certain you will not find anywhere else in the Big Country. We sell our firewood by the face cord.
Schedule to pick up your firewood onsite or we offer firewood delivery within 20 miles of Abilene, TX! Firewood stacking is available.
We carry a good selection of clean, split, dry, firewood for any occasion.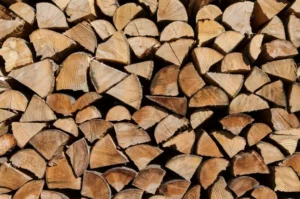 Make sure you're buying wood from a trusted source. Store-bought wood that is wrapped in plastic can often be sold wet or rotting. Yuk! You can always count on the best quality from Thornton's Tree Service and firewood supply.
We provide quality oak, mesquite, pecan, and mixed firewood that's perfect for your needs.
Our firewood can help you stay warm inside during the cooler months or help you host a bonfire or outdoor BBQ.
What is a face cord of firewood?
Folks always have questions about a cord of wood. We sell firewood by the face cord, not by the number of pieces. A true Cord of firewood = 8ft long 4 ft high 4ft wide for a volume of 128 sq feet.
A face cord shares the 4-foot height and 8-foot length with the full cord. The difference between a Standard Cord and a Face Cord is width. A standard full cord is 4 feet deep, which usually consists of three stacks of 16-inch-long wood. However, the face cord is only one stack deep, making it approximately 1/3 the size of a full cord, usually 16 inches deep.
Along with our top-level service, we also make sure to provide only the finest wood that has been seasoned to burn well. Our existing customers have great things to say about our firewood quality and service. New customers receive the best possible service and top-standard quality  firewood.
If you are looking for firewood for sale, then look no further. Call us today for all your firewood needs. Get your wood before the cold weather settles in. Seasoned wood is best for long-lasting even burning. for cooking firewood, stoves, fire pits, or fireplaces.
Hardwoods like Oak, Mesquite, and Pecan burn longer and hotter, containing more heat per pound.
Firewood delivery and stacking are available, starting at $75 for 1/2 face cord and $150 for full face cord firewood delivery. Call us at Thornton's Tree Service for delivery options, if you also need stacking, or if you have any questions.  We are the go-to firewood supplier in Abilene, TX and the surrounding areas!
**We do require payment upon delivery, cash, or a good check. Prices are subject to change without notice.
Oak Firewood
Oak firewood burns quite hot and although it does have a distinct aroma, it burns cleanly (when allowed to season properly) and also burns slower and longer.
1/4 face cord (6'x4'x16") Oak – $100
1/2 face cord (4'x4'x4′) Oak – $195
1 face cord (8'x4'x4′) Oak – $390
Mesquite or Pecan Firewood
Mesquite is popular firewood that works well for cooking since it produces a lot of heat and a deep flavor. This wood is naturally dry. It burns hot like Oak but with minimal popping so it's safer to burn in a fire overnight. The distinctive fragrance from burning Mesquite is a key ingredient in many smoked types of meat. Smoked brisket anyone?
1/4 face cord (6'x4'x16") Mesquite – $100
1/2 face cord (4'x4'x4′) Mesquite – $175
1 face cord (8'x4'x4′) Mesquite – $350
Miscellaneous Firewood- Great for outdoor burning
1/4 face cord (6'x4'x16") Misc. – $100
1/2 face cord (4'x8′) Misc. – $150
1 face cord (8'x4'x4′) Misc. – $295
Delivery and stacking are available starting at $75 within 20 miles of Abilene. Call for delivery options.
Make sure you are stacking your firewood safely with these tips from the Texas Farm Bureau.
Thornton's Tree Service also sells Wood Chips!