The safest and most efficient method for removing large trees in confined spaces in West Texas involves the use of a crane. Traditional tree removal techniques often fall short when dealing with trees situated close to structures. To successfully remove these sizable trees while avoiding obstacles, complex rigging and lowering procedures are necessary. However, these conventional methods can yield inferior results when compared to the crane-assisted tree removal process.
Utilizing a crane in the tree removal process offers significant advantages. It notably reduces both the time required for tree removal and the impact on the surrounding environment. This approach allows us to conduct tree removal with minimal disturbance, even in the tightest of spaces. In cases where a tree has grown substantially close to a structure, the crane becomes the only viable and safe option for removal.
Case Study: Tree Removal Abilene
Cindy Sparks had called us concerned about a couple of large pecan tress in their back yard of their Abilene, TX home. With one of our cranes were were able to literally safely lift large sections of the trees from the backyard and set them out in the street to cut them up and take them away. Fast, Efficient, and Affordable. We do this kind of work on a daily basis around West Texas.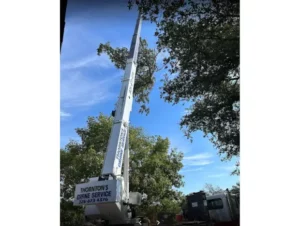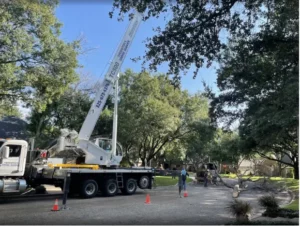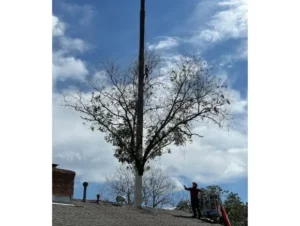 Testimonial

We had two huge damaged pecan trees removed by Thornton's Tree Service. It was fascinating watching the skill and care which the crew worked but just as fascinating seeing how clean they left our yard. This company is totally professional and would recommend them if you want excellent service.
Cindy Sparks
Wondering about the cost of tree removal services in the Abilene area?
Tree removal expenses are subject to several variables, and we base our pricing on the amount of time we estimate it will take to complete the job:
1. Proximity to potential hazards, such as buildings and power lines, can affect the cost. Having adequate space to safely lay down the tree typically results in a more economical price compared to the need to climb the tree and dismantle it piece by piece.
2. The tree's size plays a significant role in determining the price. Larger trees inherently require more time for removal and cleanup, making them more costly than smaller ones.
3. The tree's health is another consideration. Some trees may be unsafe unsafe and it can take extra time to ensure the removal is done properly without portions of a tree falling on an adjacent structure, which can influence the overall price.
Feel free to reach out to us or request a complimentary estimate at 325-225-4817 for all your tree service inquiries and needs. Check out this tree removal fact sheet from the Texas Department of Insurance.
We proudly offer top-tier crane-assisted tree removal services in Abilene, San Angelo, and Weatherford TX at the most competitive rates in town. When you require tree removal, you can rely on Thornton's Tree Service to handle the job with precision, regardless of its size.