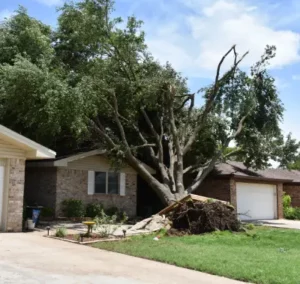 Although 2022 has been a pretty dry year, thunderstorms that develop here in west Texas any fall, spring, and summer will call for major tree storm cleanup afterward and Thornton's Tree Service is here to serve you. Your trees are usually the first thing to fall during a bad storm with high winds, hail, and lightning. This leaves your property vulnerable to structural damage if they fall on your home or business. Calling a professional for storm clean-up service is vital if you want to avoid injury and keep your property safe.
Thornton's The Name You Can Trust
We will respond promptly to calls for tree removal after storms throughout Abilene, TX San Angelo, TX, and the surrounding areas. We can remove sick or dying trees that may be weakened and threatening to topple over. Our trained crews can remove the danger to your home and surroundings. We can also help improve the health of trees that have been damaged by severe weather. We can pick up downed trees and clean debris left behind, including branches.
Trust Us to Clean Up Your Property After a Bad Storm
To keep you safe and your property clean, trust Thornton's Tree Service. We can remove trees safely from your property with our crane services; whether you need space cleared or to get rid of a diseased or dying tree. Contact us today. We're here to help. Call now.
Storm Damaged Trees Can Be Dangerous
When a large tree has fallen in your yard, or even onto your house as you can see here, it puts your safety at risk. Avoid injury or other damage by calling Thornton's Tree Service for emergency tree removal.
We'll respond to your inquiry no matter the time or day. After we've come onsite and assessed the situation, we'll begin the clean-up process, making sure to remove to safely remove the debris using our cranes, lifts, and other professional equipment. We are licensed and insured for your safety.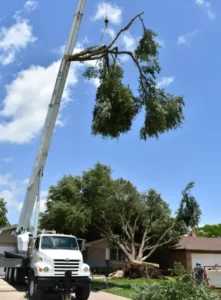 Can You Save a Lightning-Struck Tree?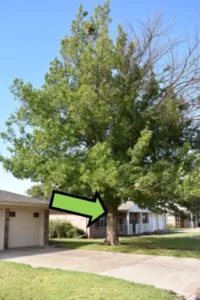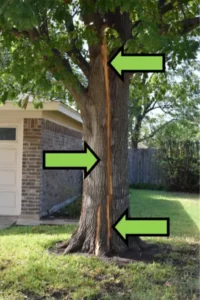 Whether or not the tree can be saved depends on how lightning hit the tree. A healthy tree that didn't suffer other damage may survive a lightning strike with no ill effects. However, older or diseased trees are more likely to be severely weakened by a single bolt.
But, even healthy trees can sustain severe injury when hit by lightning. Often, lightning travels from inside one part of the tree to another and through smaller branches without ever actually hitting them. In addition, if sapwood gets wet after being damaged by lightning, it becomes brittle and weakens quickly.
If your tree has been hit by lightning make sure that it hasn't been set on fire inside the trunk. This happens in many cases and homeowners think they are just dealing with a downed tree when they also have to call the fire department to put out the blaze.
Lightning, which is an electrical current, passes from the trunk of the tree through the roots and dissipates in the ground.  A tree can sustain major root damage from this electricity blast. This may cause the tree to decline and die without significant aboveground damage.
These photos were taken by a friend of ours after lightning hit his neighbor's tree.
How Can You Tell if Lighting Struck a Tree?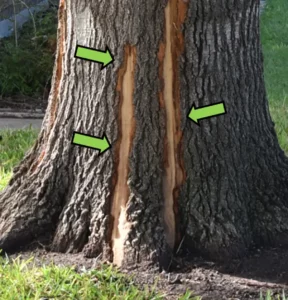 Anytime a tree is struck by lightning, this sometimes will split the tree wide open, and sometimes it will blow the bark back from a tree and break its branches. When there is more than one shock wave, you may notice more splitting. In these photos you can see where the lightning bolt blew off tree bark as it headed into the ground.
Lightning can cause tree damage in a couple of ways.
By severely damaging the trunk
If the tree wood gets wet after suffering injury from lightning, it does become brittle and weakens quickly.
It pays to know the signs of storm damage. If you are unable to determine the extent of the damage, call us.
If you look out and see a downed or broken branch that's an indication that something has happened since natural causes would not typically lead to this type of damage. Reach out and contact us if you have storm damage.
If you need emergency tree removal service in Abilene, Sweetwater, San Angelo, Clyde, Baird, Haskell or any town in West Texas call now to schedule your appointment for a free on-site inspection and quote.