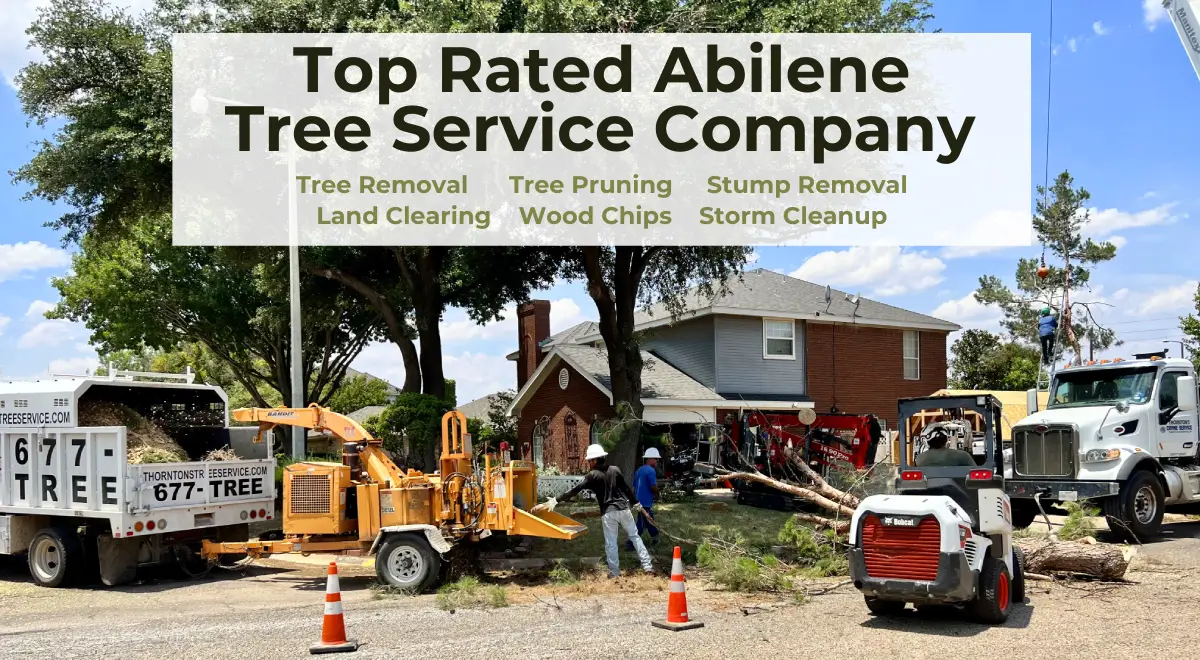 Thornton's Tree Service
Serving Abilene & West Texas
Thornton's Tree Service has been Abilene's go-to tree service provider since 1991. We continue to cover more ground than any other tree service in the Abilene area.
We are the premier tree service company licensed and insured in the Abilene, Brownwood, San Angelo, Wichita Falls, Possum Kingdom Lake, and the Weatherford areas offering free estimates, affordable prices, and exceptional service. As a member of the Better Business Bureau we are held to the highest standards of honesty and accountability and are proud of our A+ Rating and our Google Reviews. Call today for a FREE QUOTE  325.225.4817 and we'll schedule a time for an onsite visit.
As we head into the winter months you really need to take a good look at the trees on your property. Be looking for dead or damaged branches on your shade trees. These really need to be removed before winter winds roll in along with icing (and sometimes snow) here in Texas. The high winds along with ice and snow accumulation can bring them crashing down and damage your homes and vehicles. After the extreme cold in February 2021, numerous trees still exhibit lifeless trunks and branches. Ensure their prompt removal to prevent potential damage to your property and the safety of your loved ones.
We know tree care can get expensive. That is why we aim to provide the best price every time. We're also willing to beat other bids and work with our customers
to ensure that they get our exceptional services at the best price.
With top of the line equipment and personnel our service and capabilities are unmatched. We always work with our customers to ensure that their needs are addressed while staying within their budget. Why take on the backbreaking and dangerous job of cutting down a tree yourself or risk falling off a ladder trying to remove a bothersome limb when you could have the professionals at Thornton's Tree Service do the work for you? If you're concerned about costs check out our financing option.
Tree Service Professionals
Thornton's Tree Service stands as the leading provider of tree care services in Abilene, TX, and the surrounding areas of West Central Texas. Our team of skilled crews and tree care specialists excel in all aspects of tree care, maintenance, and removal. Thornton's Tree Service has been the trusted choice for local residents with over three decades of experience.
We specialize in the removal of dead, dying, or diseased trees from your property, making way for a safer and more appealing environment. Additionally, we offer convenient firewood services, allowing you to effortlessly heat your home, fire up your smoker, or unwind around your backyard firepit.
Backed by extensive knowledge and expertise, our crews are well-equipped to handle even the most challenging tree-related tasks across Abilene, TX, Brownwood, TX, San Angelo, TX, Weatherford, TX, and Wichita Falls, TX and now serving Oklahoma City, OK. Our fleet of cranes allows us to seamlessly remove trees, even in yards with intricate landscaping, while minimizing disruption to the surrounding areas. We are known for safely lifting whole trees and portions of trees from backyards and tight spaces where traditional removal practices are impractical or impossible. Plus our crews are equipped with state-of-the-art safety equipment and harnesses.
By choosing Thornton's Tree Service, you not only enhance the aesthetics of your trees and property but also ensure their long-term health and beauty for years to come. Call us today at 325.225.4817 to put us to work for you!
Just A Few of Our Abilene Area Business Clients
First Financial Bank
Masterscapes
Abilene Country Club
Coca-Cola Southwest Beverages
Ben E Keith
Cloyster's Shopping Center
Texas Department of Transportation
Hendrick Health System
Abilene Independent School District
The Best Equipment To Do The Job
We are the only company within 200 miles of Abilene, TX with the capability to do any form of crane tree removal. However, cranes aren't the only big gun we have. Our list of equipment also includes man lifts, shredders, stump grinders, chippers, and forestry mowers/skid loaders. We also utilize roll-off dumpsters to transport loads of debris which is safer for our crews and helps jobs get done in record time.
Our professional gear enables us to remove even the largest trees and limbs in hard-to-reach places or when ground cover and objects (like buildings, swimming pools, (you name it) prevent the typical "easy" methods of removal. Safety always comes first as many times we're having to deal with overhead power lines and electrical service lines.
Undesirable tree removal
Hazardous or dead tree removal
Insect-infested tree removal
Dangerous, dead, and undesirable limb removal
Fallen and dead tree debris removal
Stump removal
Chipping limbs and branches
Land Clearing
Forestry Mowing
Large loads of Wood Chips
Call Our Abilene Tree Service Today
The process is simple. Give us a call and we will come to visit your property and make an assessment of the job to create an accurate estimate. Our fully insured tree services are available 24 hours a day, 7 days a week. Be sure to ask us about our Military and Senior Citizen discounts.
Thousands of Satisfied Customers
Thornton's Tree Service is a comprehensive, locally owned tree service and firewood supplier. We've served thousands of customers in our over 30 years of service and continue to grow. We can provide our services for home or business owners in need of tree removal, tree trimming, stump grinding, hedge trimming, and land clearing.
Unlike some small tree service operations in the area, our work is fully bonded and we're fully insured. We are members of the Abilene Chamber of Commerce and The Better Business Bureau with A+ accreditation and membership. Exceptional services at the best price. Call for a FREE ESTIMATE at 325.225.4817 today.