ICE STORM: As the ice storm continues, one of the biggest problems property owners face is having trees coated with ice, and branches crashing down. We do work 24/7 in case of emergencies so please call if you have tree problems.  A half inch of ice coating an average-sized tree can add about a thousand pounds of weight and the forecast for the Abilene area is calling for 1/4 to 1/2 inch of icing.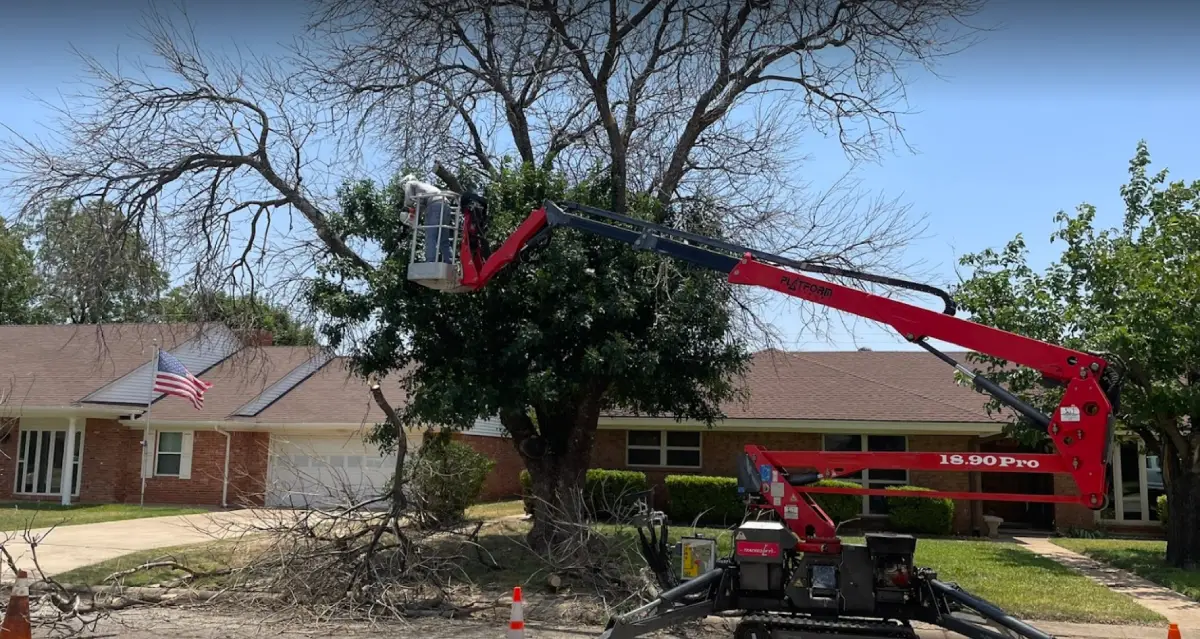 Thornton's Tree Service
Serving Abilene & West Texas
Here at Thornton's Tree Service, our professional, affordable tree services include tree removal, trimming, stump grinding, limb removal, wood chipping, brush clearing, firewood, and more for the greater Abilene and West Texas area.
We are the premier tree service company licensed and insured in the Abilene, Wichita Falls, Possum Kingdom Lake, and the Weatherford areas offering free estimates, great prices, and great service.
We regularly beat bids and are willing to work with customers the best way we can to ensure that they get our exceptional service at the best price. 
Why take on the backbreaking and dangerous job of cutting down a tree yourself or getting up on a ladder to trim a branch when you can have a professional tree service do the work for you?
Tree Service Professionals
For 30 years Thornton's Tree Service has been the Abilene area's choice for tree services with the expertise to safely and carefully remove any trees and limbs on your property.
We're ready and able to remove dead, dying, or diseased trees from your property. We make it easy to heat your home, fire up your smoker, or relax around your backyard firepit with our firewood services.
Our crews are backed by experience and extensive knowledge to handle the hardest jobs across Abilene, Weatherford, and Wichita Falls TX.
We regularly remove trees from yards that include difficult landscaping and we do it without disturbing the surroundings.
Your trees won't just look great, but they'll also stay beautiful and healthy for years to come.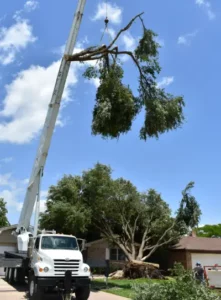 The Best Equipment To Do The Job
We have the largest tree cranes in the Abilene area plus the most equipment. Our equipment includes multiple cranes, man lifts, shredders, stump grinders, chippers, and forestry mowers/skid loaders. our professional gear enables us to remove even the largest trees and limbs in hard-to-reach places or when ground cover and objects (like buildings, swimming pools, you name it) prevent the typical "easy" methods of removal. Services we provide include:
Undesirable tree removal
Hazardous or dead tree removal
Insect-infested tree removal
Dangerous, dead, and undesirable limb removal
Fallen and dead tree debris removal
Stump removal
Chipping limbs and branches
Land Clearing
We will need to come to visit your property and make an assessment of the job to create an accurate estimate. Contact our tree service for fully insured tree services that are available 24 hours a day, 7 days a week. Be sure to ask us about our Military and Senior Citizen discounts.
Were your trees affected by the 2021 Winter Storms?
We are still seeing a lot of damaged trees across the Abilene and West Texas from the February 2021 Texas Winter Storm. It may be time to take care of the problem before it gets worse and the tree begins to infect other trees around it or the tree falls and either injures someone or damages your property. Whether you have a diseased tree or a fallen tree on your property, call on Thornton's Tree Service to handle the removal. We're your best choice for tree care services in Abilene, Wichita Falls, Weatherford, and West Texas.
Thousands of Satisfied Customers
Thornton's Tree Service is a comprehensive, locally owned tree service and firewood supplier. We've served thousands of customers in our over 25 years of service and continue to grow. We can provide our services for home or business owners in need of tree removal or tree trimming. Our other tree services include stump grinding, land clearing, hedge trimming, plus firewood. Unlike some small tree service operations in the area, our work is fully bonded and fully insured. We are members of the Abilene Chamber of Commerce and The Better Business Bureau with A+ accreditation and membership. Call for a FREE ESTIMATE at 325.255-4817.
Our tree service sees this type of work all the time, fast-growing trees that need…