2021 Winter storm killed this tree.
Now it's literally falling apart.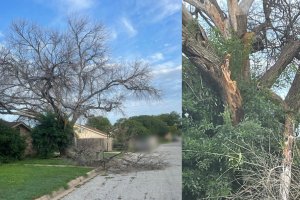 In the Abilene and West Texas regions, the aftermath of the Texas Winter Storm in February 2021 is still evident with numerous damaged trees. A photograph received from the south side of Abilene recently shows one such tree that succumbed to the storm's impact, and now, by mid-July 2023, it is visibly disintegrating.
If you find yourself facing a similar situation with damaged, diseased, or dead trees on your property, it is crucial to address the issue promptly.
Neglecting it could lead to further deterioration and pose risks such as the tree falling onto your property or causing harm to individuals.
For reliable tree removal services, turn to Thornton's Tree Service.
Our team is equipped to handle the safe and efficient removal of problematic trees, ensuring the safety of your property and those around you.
We're your best choice for tree care services in Abilene, Wichita Falls, San Angelo, Brownwood, Weatherford, and West Texas.