The tree removal professionals at Thornton's Tree Service are highly skilled experts capable of handling this kind of dangerous work. Thornton's Tree Service uses the proper techniques to remove trees in the Abilene, TX area without causing unnecessary damage to your property. An unqualified or inexperienced person will likely struggle to safely remove a tree resulting in potential loss to property or life. Tree removal is a dangerous do-it-yourself job and the internet is full of videos showing "experts" make poor decisions leading to catastrophic results. When necessary, we use our man lifts and cranes to make access to trees much easier and safer than by traditional methods of ropes and ladders. While cranes are an important aspect of our service, they are only used when necessary. If the situation allows we will drop the tree or piece it away in the safest manner possible.
We know tree care can get expensive. That is why we aim to provide the best price every time. However, we are also willing to beat other bids and work with our customers to ensure that they get our exceptional services at the best price.
We are diligent to provide all the necessary steps needed to ensure 100% safety during the tree removal process and avoid property damage. Our highly trained team members have decades of experience and strive to leave our customers 100% satisfied with the job they've received. Thornton's has all of the well-maintained equipment and know-how to make sure every job is a success and you can barely tell there was ever a tree there to begin with. We can take on any job, big or small.
Are You in Abilene, TX, and Not Sure if You Need Tree Removal?
Here are some common reasons that a tree needs to be removed:
Dying/dead tree
Damaged or diseased tree (possibly from storms or organisms)
Overgrown branches causing a safety hazard to those on/around your property
Trees or branches are threatening your house, garage, outbuilding, vehicles
To create more  space on your property
Sure Signs You Need a Tree Removal Service: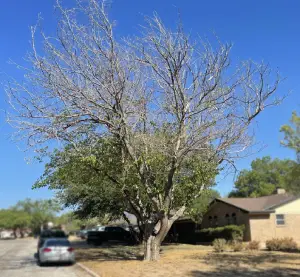 Diseased and Damaged Trees
Diseased and damaged trees around your property are a safety risk for your family. They can easily drop branches on people or damage property. It's important to notice the signs of a decaying tree, that way you can remove it before it causes any problems. This is especially true for trees or portions of trees which were killed off during the Texas Freeze of February 2021. To learn more about the signs of a diseased tree, check out the following section. Oak wilt is also become a bigger problem in the Abilene, TX area.
Leaf Discoloration or Lack of Leaves
When the leaves begin to lose their color or start to deform, it's a sign that the tree is sick. Diseased trees also tend to lose a lot of leaves. Our estimators will be able to inspect the leaf growth and determine if tree removal is necessary.
Mushroom Growth
When mushrooms appear on or around the base of the tree trunk it is a sign that rotting material is present. Most trees that spontaneously fall over typically will have had fungus growth around the base for an extended period of time. We've also seen large limbs overhanging houses that have had bark loss and fungus growth requiring removal to prevent damage to the home. The experts at Thornton's will be able to provide their recommendations when they come out for a free estimate.
Dead Branches
The reasons trees develop dead branches are wide and varied. While it is not always easy to address why a branch has died, some of the contributing factors could be disease, insect infestation, self-pruning, weather extremes, etc. Dead branches are hazardous, as they can fall on people or damage your property.
Bark Discoloration/Shedding
The tree's bark is similar to human skin, meaning it's a visible indicator of its overall health. Diseased trees tend to have deep cracks and gouges in their bark. Recently we have seen more and more trees losing large chunks of bark which could indicate tree death or limb death. It's important for the homeowner to inspect their trees regularly to identify potential hazards. Thornton's Tree Service will be able to assess the damaged tree bark and determine the best solution moving forward.
If you notice any of these signs on your trees, turn to our experts for tree removal and crane services. Our experts have the experience and skills to remove the tree in the most efficient way. For years, we have provided tree removal services for Abilene, and San Angelo, areas. Contact us to schedule a tree removal service today!
If you are a homeowner or business and have questions about your tree, please don't hesitate to give us a call. One of our estimators will schedule a visit at your convenience and perform an on-site assessment. We run four crews so we can usually get to your job as soon as possible. We will often move jobs to accommodate emergency situations. If your property is currently facing any of these situations, just pick up the phone or fill out our online form to get in contact with us. Please note that we are with you from start to finish and will leave your property better than when we found it. Give us a call today at 325-225-4817 for a free no-obligation estimate. Ask us about our military and senior citizen discounts.